Chinese mobile manufacturers came to India and beat every company. This in itself is unimaginable and also a reality. We have mentioned it so many times that it has become tedious now. But the truth is, and these companies are also deciding the strategy of the market. From the smallest companies of India to multinational brands are presenting their products on the roadmap of these companies.
Some companies have suffered a lot by participating in this race, but Sony has been adamant about the specification and price of its product. In such a situation, do not expect any flagship product from this Japanese company in the price segment of half the current price. For this reason, at first glance, Sony's Xperia M4 Aqua Dual smartphone seems to be completely lagging behind its lesser priced handsets. That's why we have tried to find out how Sony can survive in this race and we have come to a very surprising conclusion.
look and design
The Xperia M4 Aqua Dual is a phone made of plastic and glass with a flat back and curved sides. The white and coral pink versions look good but the black version, which we got for review, looked a bit heavy. The silver brand logo all over the body, a ring around the rear camera lens and the power button on the side looks a bit different. If the screen is off, then it appears as a glowing black slab.
The phone is slightly curved and the design is of a matte finish, but due to the flat back, it is not a bit comfortable to hold. The handset is completely sealed, so all ports and slots can be accessed externally. The microSD card slot is on the top left, while the nano SIM slot is on the top right and both of them are behind rubber-lined flaps.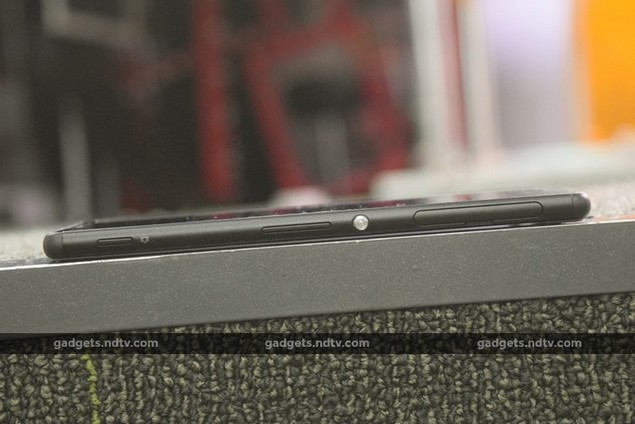 This is because the biggest feature of the Xperia M4 Aqua is that it is waterproof. The IP65 and IP68 ratings mean that nothing will happen if the handset is left in fresh water 1.5 meters deep for 30 minutes. Apart from this, it is also dust resistant. Interestingly, Sony has done this wonders by covering the 3.5mm audio port on the top and the micro-USB port on the top left side without the flap. The absence of a flap in the micro-USB port is even better, as removing and applying the flap for frequent charging can be very cumbersome.
The power button is very small and it is placed in the center on the right, this position is very awkward. Below it are the volume buttons. And at the bottom is the shortcut button of the camera. The button of the camera gives a good feeling to touch and its position is also given right for using the camera. Sony is now the only company that makes buttons like this and we love it.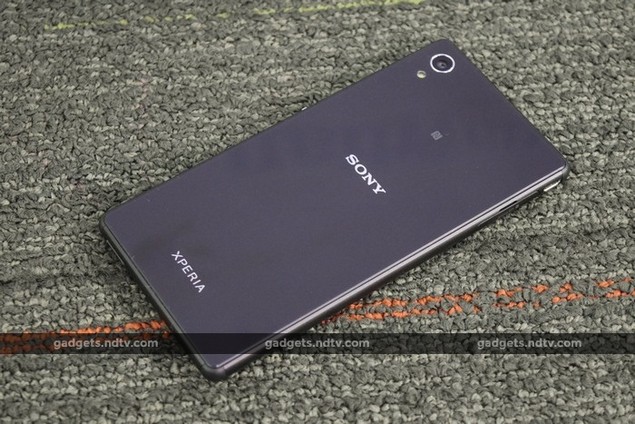 Specifications and software
The Snapdragon 615 SoC processor has been used in this phone, which is common for most smartphones these days and their price is also less than this phone, but it is not enough. With four 1.5GHz cores and four 1GHz cores, the SoC can tackle tougher tasks and save battery when needed. The phone packs 2GB of RAM and 16GB of internal storage, which can be expanded up to 32GB via microSD card.
The resolution of the 5-inch screen is 720x1280P. This is less sharp than the full HD screens of other phones in this price range, but there is practically no loss. Everything is still sharp and this screen is much better in terms of color reproduction and viewing angles.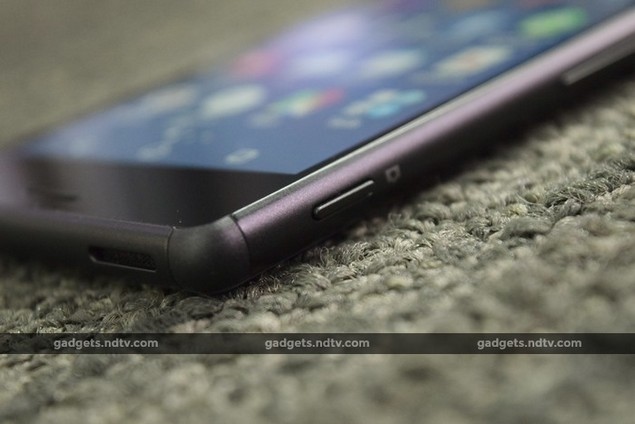 The handset has features like Wi-Fi b/g/n, Bluetooth 4.1, A-GPS, FM radio and NFC. The 2300MHz band used in India's 4G network can be accessed using a SIM card in both the slots. Interestingly, there is no support for USB-OTG storage in the handset. The battery capacity is 2,400mAh, which is great for a device of slim like this.
This phone is based on the Android 5.0 operating system, on top of which Sony has used its UI, which we liked. Several themes exist, although most of these are designed to resemble Sony branded movie or music tie-ins. The company has been doing this in the past when it has overloaded its software to advertise its media products. You'll find a Sony Liv icon on the homescreen, along with Sony's Music, Albums, Movies, and PlayStation apps. Another new app is What's New's large widget, which is intended for advertising. Some preloaded apps like Line, Movie Creator, File Commander, Sketch, MobiSystems OfficeSuite, AVG Protection and TrackID are useful, while apps like Xperia Lounge and News from SociaLife are somewhat spammy. Very few of these can be uninstalled.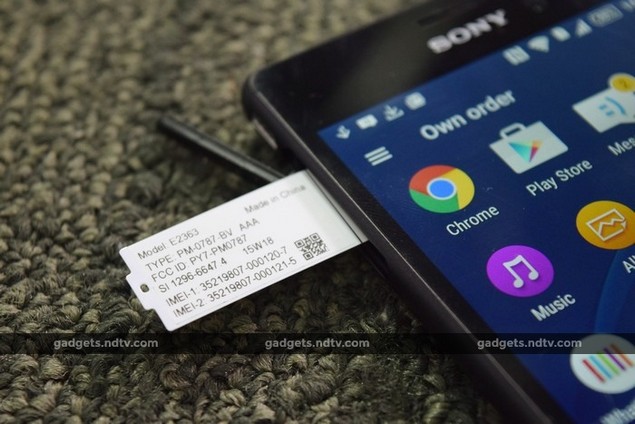 TV SideView is a handy app. This will act as your local TV guide and this app gives you the option to use a compatible Sony TV if you are on the same network. You can browse shares for media via DLNA network, and enjoy content from Sony's apps on compatible TVs, Bluetooth, and speakers.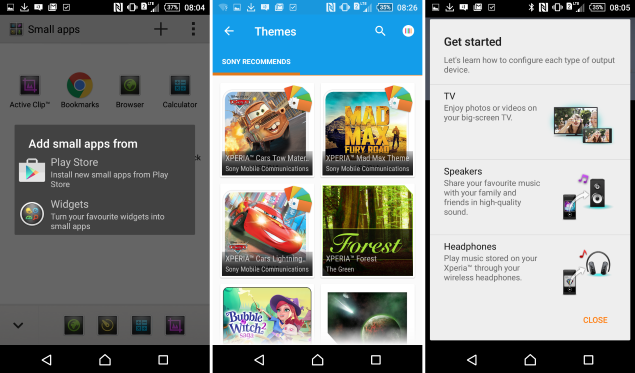 Sony's camera app allows third-party integration, so you can download an app for a time-lapse mode or any other filter in addition to the default Superior Auto, Manual, AR Effect, Creative Effect and Sweep Panorama modes. Apart from this, many well-known apps such as Vine, CamScanner Phone PDF and Evernote can also run.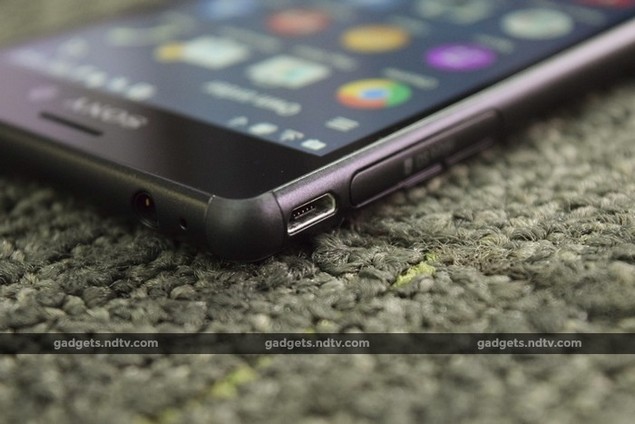 performance
The Sony Xperia M4 Aqua Dual was a lot of fun to use and there are no complaints about its speed or response. Apart from the awkward placement of buttons, there was no problem in holding and using the handset in one hand. Call quality was excellent and LTE worked fine too. We noticed a problem, after a few minutes of normal use, the upper part of the rear side of the phone started heating up.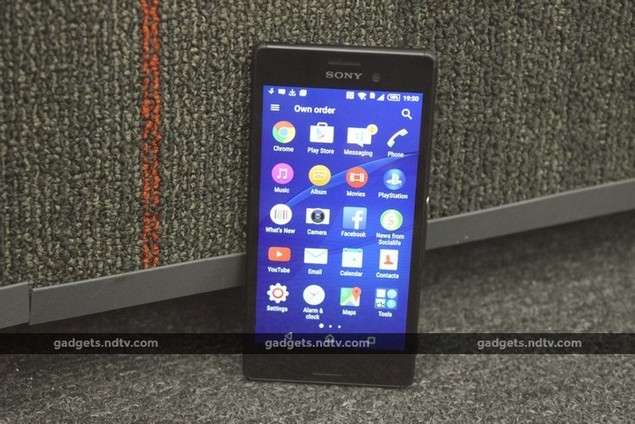 Benchmark scores were also good, but not the best results in this price segment. We got a score of 33,097 in the AnTuTu test and 16,108 in the Quadrant test. A good 22fps score in the GFXbench test, while 3DMark Ice Storm Extreme got 4,345 points. Video playback was also decent and we didn't have any problems playing heavy clips at 1080p. The sound was clear and balanced well, but it was soft even at maximum volume level.
Battery life in particular was excellent, lasting 9 hours 58 minutes on the video loop test. Sony claims that after fully charging the handset, you can use it for two days. It's possible, but you don't have to stress over games and web browsing. Amidst all this, even after heavy usage, it will run smoothly for a day, so you will not have to worry about carrying a power bank and charger.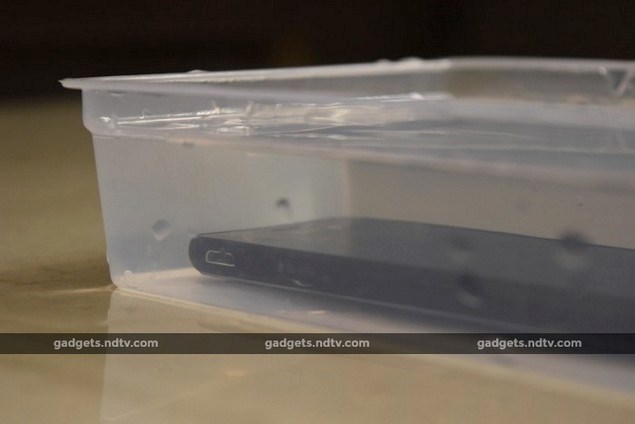 The camera emerged as the biggest feature of the phone. Even in complex exposure, the picture taken with the camera came with the details. We were happy to see that the compression and noise artifacts were under control. The camera took pictures with detail even in low light, which is not normally seen. Lastly, we had to check Sony's claims that the Xperia M4 Aqua is waterproof, so we left the phone in a basin filled with tap water for 10 minutes. This phone kept running even while in water, after taking it out, there was no problem in using it even after wiping it with a towel. The touchscreen doesn't work underwater, but you can use the camera because of the physical buttons. Waterproofing is a great feature in this price range, and you won't be bothered about getting wet in the rain or accidentally spilling any liquid on the handset.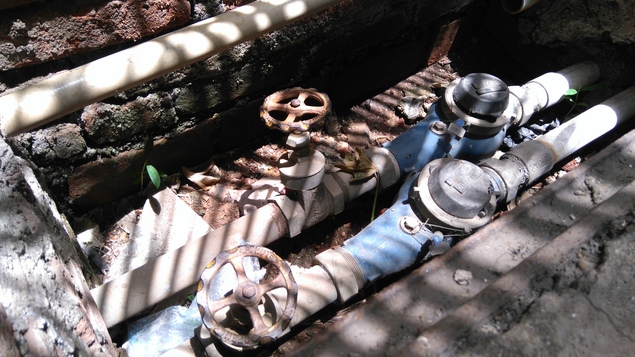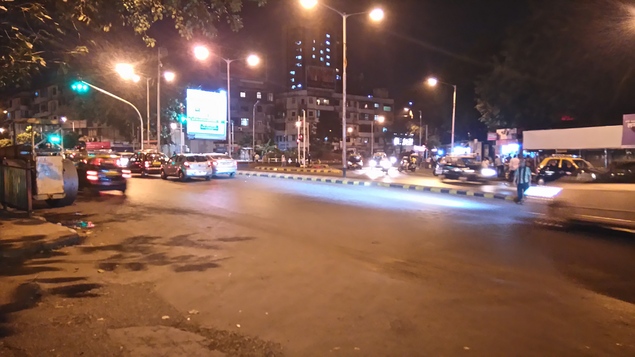 our decision
The phone doesn't compete with the Oneplus One and other handsets just on the basis of specifications, but Sony has introduced the Xperia M4 Aqua Dual with many new features and made it usable, which makes the price of the phone reasonable. It is also a fact that you are not getting the fastest processor and great screen, but this handset is way ahead in terms of polished product. You are getting features like a good camera, great battery life and waterproofing.
If the price was a little lower then the market of the phone would not have suffered. Well, the phone is already available at a slightly lower price than its launch price. So keep an eye on the offer. Sony has proven that it can offer a solid smartphone market without getting involved in a price war.