The smartphone industry has been obsessed with specifications and the technology press has also played an important role in addiction. We live in a world that's obsessed with octa-core processors, 13-megapixel cameras, and several GB of RAM, but we don't spend much time on important things. Especially the experience of using the phone on a daily basis.
The iPhone 6 has 'only' a dual core processor with 'only' 1GB of RAM. The good thing is that most people do not make any decision about the iPhone just by looking at the specification. Apple also never gave it much attention. On the other hand, other manufacturers will keep swirling between "price to specs ratio" and "experience". It will also depend on which device they are talking about; Are they the leaders of their segment or are they in the race to get there.
However, in the case of entry level smartphones, specification is everything for the people. It is assumed that the customers of this segment are those who are not concerned with things like stability and user experience, only and only care about the specification of the phone.
We are not trying to say that specification is not important in a device and it can be ignored. For a long time, the hardware of entry-level smartphones was a bit weak. As of today, you can find a smartphone under Rs 10,000 that has the same specifications as a flagship device. In such a situation, it is absolutely justified for the consumer to be excited.
Sometimes this enthusiasm turns into a strange kind of stubbornness. Many people rely on Mi, Yu and other 'flagship killer' devices because of their premium specifications. It doesn't matter what the experience of using them is like. On the other hand, devices that compromise on specifications for stability and user experience do not get customers. The weak response received by the Android One smartphone launched last year is a classic example of this type of behaviour.
The growing customer base of Lenovo (which now also owns Motorola), Xiaomi and Micromax has been praised for the right reasons, but the reality is that these companies still have a long way to go in terms of software stability. You will be able to compare the stability of devices from companies like Motorola, HTC and Samsung. Some companies are taking money from customers and using them as beta testers. On this pretext, the cost of testing is saved, which is useful in cutting down the cost of the handset. At the same time, companies that focus on user experience, software stability, and respect the user's money and time, their devices look a bit expensive compared to others.
Now let's talk about Moto G 3rd gen. Compared to the Lenovo K3 Note and Xiaomi Mi 4i, the specifications of the Moto G 3rd gen are a bit weak, but being waterproof and having a great software experience are among the features of the handset. We used the Moto G 3rd gen as our primary smartphone for about a week and found it to be a reliable device. Let us know in detail about other aspects of the phone.
design and display
The design of the Moto G 3rd gen is such that it is completely the hallmark of Motorola, but this device has also been given some unique touches. This smartphone may not attract the attention of the crowd due to its looks, but the feel of holding it in the hands is great and does not look weak in front of expensive devices. The back panel has a textured finish that strikes a perfect balance between design and functionality. It looks good and creates enough friction on the hands that the phone rests securely in your grip. The textured finish of the handset is not too rough like we have seen on many other handsets.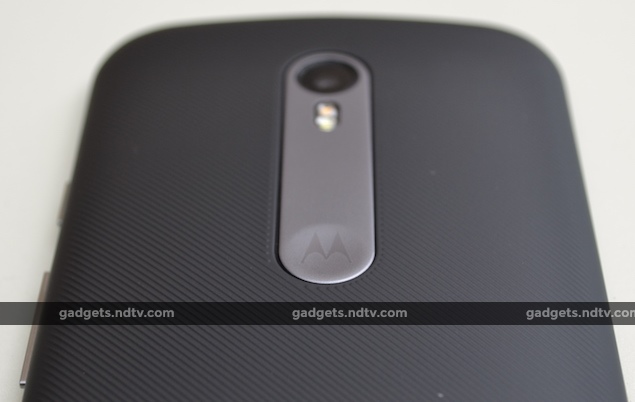 The back cover of the Moto G 3rd gen can be removed, but the battery is completely sealed so that the device remains waterproof. This is the biggest feature of the device at this price. If you are going to buy a smartphone with your hard earned money, then we believe that a smartphone with waterproof feature is a more profitable deal than a device with full-HD display and octa-core processor. Motorola claims that nothing will happen if the Moto G 3rd gen is placed in 3 meters deep water for 30 minutes. This is enough as a safety measure during daily use. Water resistance is present in the phone, it does not mean that you can go deep swimming by keeping it in your pocket.
During the time we spent with the Moto G 3rd gen, we realized that the phone is a bit 'small'. We had to remind ourselves time and again that this is a device with a 5-inch display. It is possible that we felt this because of the habit of using big screen smartphones, or it could also be due to the high screen-to-body ratio of the device. Motorola has given a 720p display in the new Moto G device, which is not as sharp as other smartphones in this price range. It is not going to happen at all that you will start praising it as soon as you see the screen.
However, it does not lack any pixelation. Coming with Corning Gorilla Glass 3 protection, this display has good viewing angles and we did not face any problem in looking at the screen in bright light outside.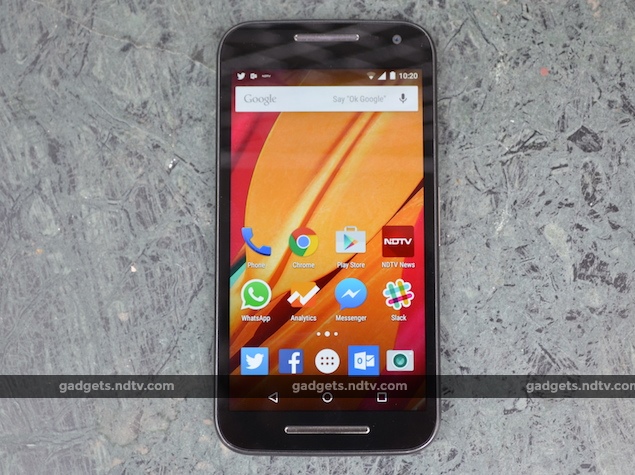 Software, performance and battery life
The stock version of Android 5.1.1 (Android 5.1.1) is available in the Moto G 3rd gen. This means that it is ahead of its rivals in terms of day-to-day performance. Some people like the octa-core processor, but we want a stable and problem-free experience even if the device is running on relatively weak hardware. Lenovo, Xiaomi and Micromax's Yu have often compromised on user experience for specifications, but this cannot be blamed on Motorola.
It also has to be admitted that the company has not taken any risk by using the almost stock version of Android. Now that consumers are happy with this, what is the need to change the hit formula? Due to the use of stock Android, the company keeps on releasing updates to the operating system rapidly, sometimes even Google's Nexus device lags behind in this matter. If you like to always stick to the latest Android version, then this is yet another reason for you to buy this new smartphone from the Motorola family.
Moto Display feature has been given in Moto G 3rd gen. This feature was seen in Moto X (Gen. 2). Due to this feature, you will be able to see the time and other notifications even on the lock screen. For this, there is no need to even bring the phone to active mode. The smartphone knows when you picked it up and automatically displays the information on the screen without you having to do anything, which is a great feature. However, sometimes this feature makes the device look over-enthusiastic. Actually, while driving, we found that whenever the car encountered small potholes or stumbles on the road, the Moto Display was activated automatically.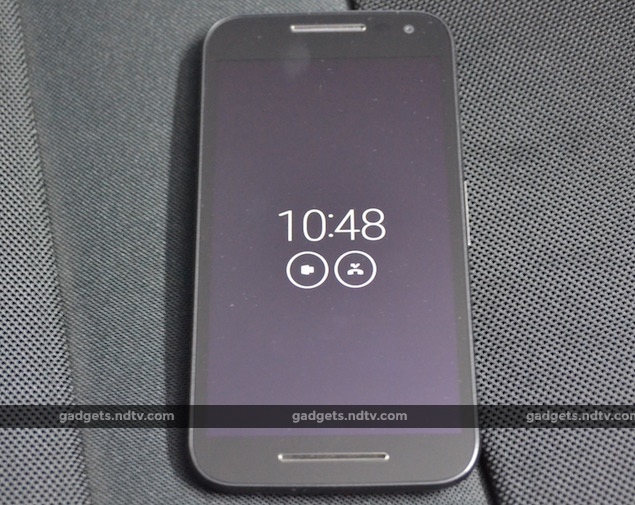 We tested the 2GB RAM / 16GB storage model (Rs 12,999). Knowing that there is a difference of only Rs 1,000 between the two variants of the device, the question arises as to why the 1GB RAM and 8GB storage model was made? The chances of getting customers for this variant are very less. We also suggest that you go for the 2GB RAM/16GB storage model only. The Moto G 3rd gen comes with 4G support on both the SIM cards and we thoroughly enjoyed the data connectivity on Airtel's 4G network. Call quality and loudspeaker performance are also satisfactory.
We didn't notice any drop in performance while playing high-end graphics games like Asphalt 8 and the phone didn't get hot even after playing the game for a long time. However, after using 3G for long periods of time in sunlight, we found that the screen did get a bit hot and this can be a problem for many people. The phone's settings do state that it has USB OTG support, but we couldn't get our drive to work with the Moto G 3rd gen. The smartphone also incorporates some quick gestures, such as turning on the flashlight by shaking the phone twice or twisting your wrists to open the camera app while holding the phone, all of which have proved useful for some people. can be.
The battery lasted between 10 and 46 minutes on continuous SD video playback, which is average for a handset with Snapdragon 410 processor. Charging the Moto G 3rd gen just once a day won't work if you're out for most of the time and use data continuously on 3G or 4G networks. If you use Wi-Fi networks at home and office and use cellular data only when you are out, the battery will easily last a day.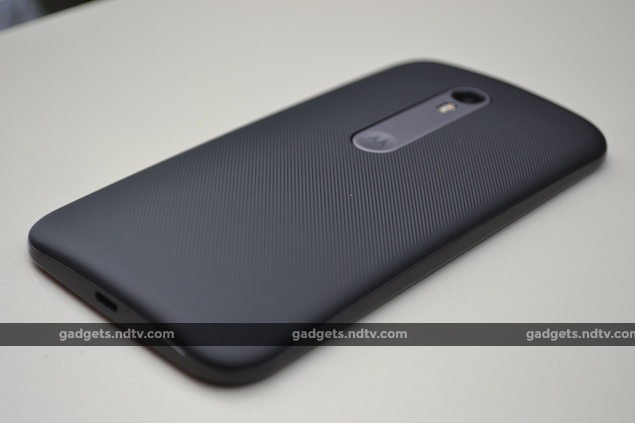 camera
The camera app that comes with the Moto G 3rd gen is in autofocus mode by default. This means that you can take a picture by tapping on the screen. You can also switch on the focus and exposure controls by going to the app's settings. By doing this, a reticule appears on the screen, which you can slide and focus on a particular object. There is also a dial using which you can change the exposure settings. The inclusion of these new features is welcome. However, it doesn't work as smoothly as the tap-to-focus style (you can use a third-party app if you prefer). The app also includes HDR mode. However, you cannot use it with focus and exposure controls.
Talking about the image quality, the Moto G 3rd gen takes pictures with a lot of detail in outdoor and well-lit places. However, the performance of the camera could have been better in low light. The front camera is more than enough features to please selfie lovers.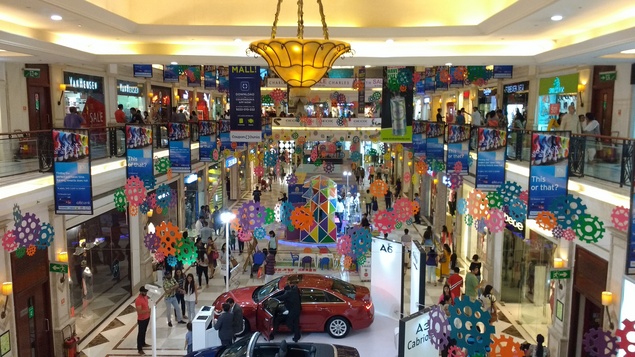 The Moto G 3rd gen can record full-HD videos and slow motion videos at 720p. Regular videos are fine in terms of quality, but grains are often visible in slow-motion videos despite being shot in daylight.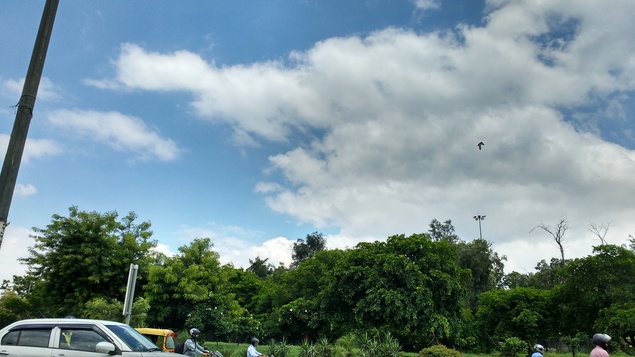 our decision
If you are buying a smartphone to impress others then Moto G 3rd gen is not for you. There is no such specification in it, by telling which you can loot the applause. By the way, if you want, you can show your phone in front of friends by dropping it in a glass filled with water. Well, seriously speaking, we are glad that the water resistance feature has been introduced at this price point and the time has come for this feature to be included in all smartphones.
This is not the only reason why we are recommending Moto G 3rd gen buy. The camera and battery life did not disappoint. It is way ahead in terms of stability and user experience and we also believe that every user deserves these two things first.