Many of us stay away from home for some reason or the other. Some for earning money and some for studies. In such a situation, during the festive season, we want to return home, but the problem is about railway tickets. If you miss getting the ticket on time, then thinking of going home is like a headache. We are saying this from our personal experience that sometimes we have to pay double or even three times the price for this type of trip made suddenly.
Indian Railways had started the Tatkal system only for those planning to travel suddenly. By the way, earning must have been an important reason behind this. Because Tatkal tickets are more expensive than normal tickets. At present, there are two arrangements for booking Tatkal tickets.
(Also read: These 9 tips are useful for those who book train tickets from IRCTC,
IRCTC Tatkal Rail Tickets can be booked a day before the journey. Booking for 3AC & above class starts at 10 AM and Slipper Tatkal ticket booking starts at 11 AM. Apart from over the counter, Tatkal tickets can also be booked online. You will often see long queues at Railway Reservation Centers for IRCTC Tatkal Rail Ticket. In such a situation, online booking remains the only option according to the convenience. But booking tatkal tickets online is not a child's play. On busy routes and in peak season, you have a few minutes, to be honest, a few seconds to book a ticket.
How to book Tatkal Ticket faster? We tell you about it…
First of all you need to have IRCTC account. You can create your account by visiting https://www.irctc.co.in website.
create master list
After that make a master list. You can access this option through My Profile. Move the mouse cursor to the My Profile view at the top. Here you will see the master list in the drop down. Click on it. The master list is actually a list of passengers that you can pre-store in your profile. On this page you will have to store the details like Name, Age, Gender, Birth Preference, Food Preference, Senior Citizen, ID Card Type and ID Card Number of the Passenger. After storing all these information click on Add Passenger. In this way all the information of that passenger will be stored in the master list of IRCTC portal. Well, we suggest you do not give birth preference. Because, the most important thing for you is getting the ticket. Chahat's seat jugaad is also possible during the journey. You can store data of up to 20 passengers in the master list.
make travel list
After making the master list, we will suggest you to make a travel list. This will also be found in the drop down of My Profile. This can be done only after making a master list. Suppose a total of 6 people are going to travel. You can make a travel list with these travelers. Go to the Travel List page. Here the name and details of the list will be asked. After this, there will be an option to select the name of the passenger from the master list. Select the names of the passengers you want to add to that list. Our suggestion would be to name the list something that is suggestive in itself. We would suggest that the work of master list and travel list should be done well in advance.
(Read:'Ticket Jugaad' app will help you to get confirmed train ticket,
preparing to book
Now come to the process of ticket booking. According to which class you want tatkal ticket, you will have to login to the web portal. For class 3AC or above, you must log in by 9.57 am in any case. For booking tickets in slipper class at 10.57 hrs. After this, immediately enter the names of the stations according to your journey in the box of Plan My Journey. After that select the date and finally click on submit.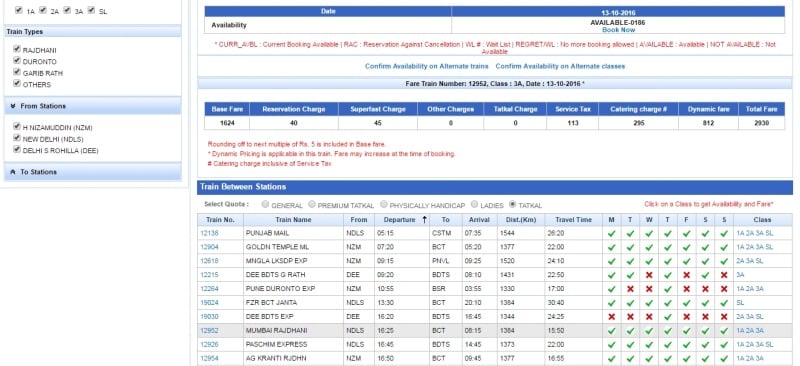 After giving your travel information, you will reach the train suggestions page. Here there will be a list of all the trains that will run on that route as of tomorrow. You will see radio buttons for General, Premium Tatkal, Ladies and Tatkal above the train list. Now click on Instant.
After this, choose one of the coaches of the train shown in front of the train in which you want to travel. Keep in mind that if you do not choose Tatkal, you will see General Availability on the website.
(Read: These best apps will make your train journey happy,
After clicking on the status, a box with ticket availability will appear at the top of the page. Suppose you want tatkal ticket in 3rd AC in Mumbai Rajdhani. You entered all the information by 9.58 and reached the ticket availability page. Here you will see the total number of seats available, but the Book Now button will be active only at 10 o'clock. In this case, you do not need to log out of this page. You stay on this page. But the IRCTC server automatically logs out the static page for a long time. So there is no need to worry. There is also a solution, you can check the availability in different trains during this time. But keep in mind that you do not click too much on the page. Keep clicking at intervals of 20-25 seconds, but stop at exactly 9:59 minutes and click between different classes of the train of your choice.
As soon as 10 o'clock you click again on the third AC class button of the train of your choice. If you have gone to the railway server at 10 o'clock, then the button of book now will be activated. Now click on the Book Now button.
How to use master list and travel list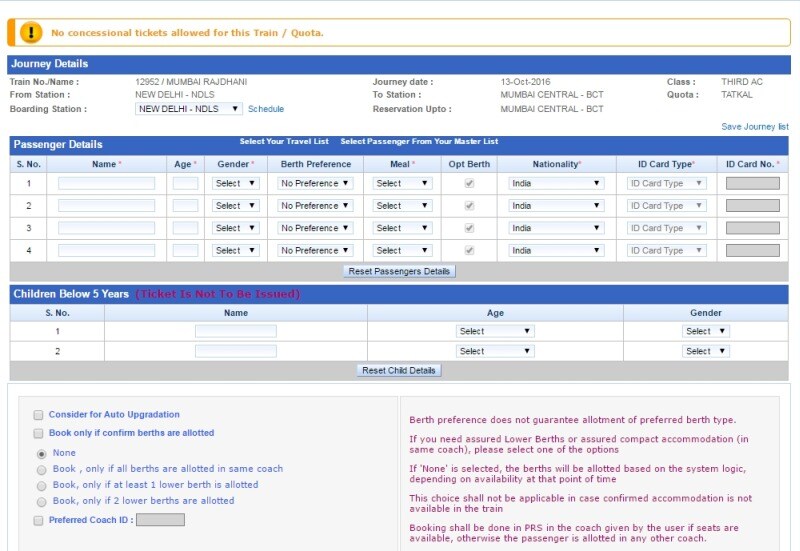 The speed of your fingers on this page will prove to be very effective and here the master list and travel list will come in handy. Which we mentioned earlier. This is a booking information sharing page. Suppose you have to travel with five people. If you enter details like name, age, gender, berth preference of each passenger, then the tatkal ticket will be taken from your hands. To get this work done faster, the master list comes in handy. On the box border line with the passenger details, you will see the button of Select from your master list. After clicking on it, you will have the information of all those people whose names you have already stored in the master list. Here you can select the names of the passengers for whom the ticket is to be booked. In this way, the details of the passenger will be automatically filled in the IRCTC booking page in a few seconds. By the way, the method of selecting the name of the passenger from the master list will prove to be effective in one or two passengers. But for 6 passengers, you choose the travel list. Select From Travel List is also present next to Select From Master List. After that you select the travel list. And automatically the names of all the passengers will be filled in the box.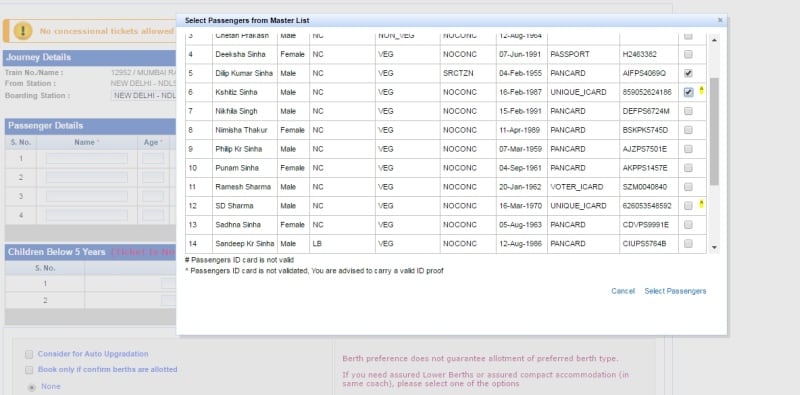 Keep these in mind to save time
Now you will also see boxes like Auto Upgradation, Booking of Confirmed Tickets Only, Preferred Coach ID, Travel Insurance and Mobile Number. You can put options of your choice in it. We would suggest that you go for travel insurance only. Avoid the rest of the frills to save time. Go straight to the bottom and enter the captcha code. Captcha code is written in a slightly complicated manner at the time of Tatkal booking. In such a situation, we would suggest that you read it carefully and fill it. If the code is wrong then your 10 seconds of work, which is too much for tatkal booking. After sharing all this information, you click on the Next button.
This is the last page of IRCTC before booking of tickets. Check travel date, train and passenger details from here with a cursory glance. Now it's time to pay. You will get options like Debit Card, Net Banking, Credit Card and Paytm. You can choose the payment method of your choice. Well, we have found net banking to be a much easier way. Because in this you have to share less information as compared to debit card or credit card, which is like saving time. And in Tatkal ticket booking, time is like money.
Important things: You will hardly be able to book confirmed Tatkal tickets on busy routes with internet speed of 1 Mbps. Speeds above 4 Mbps are excellent. OTP during payment depends on your luck and telecom network. Keep your phone handy while booking tickets.