Do you also share files like photos, videos or music and apps mostly from your laptop, mobile, tablet, desktop? From photos, music and videos to apps, we share many files with our friends and family every day. But one concern that always haunts us is the data consumption. Mobile data gets exhausted fast when sharing a large app or more MB of file.
Most of us today do sharing on apps like WhatsApp, Facebook using our mobile data or Wi-Fi. Now in the rapidly changing technology, there are many such apps which can share files without spending data and without internet connection.
Today we will tell you about some such apps from which you can share media very easily without internet and Wi-Fi. Your favorite app might not be part of this list. In such a situation, you can tell about your favorite app through the comment box.
shareit
To share any type of file without internet and free today shareit Most popular app. More than 500 million people are using this app in more than 200 countries around the world. Video, music, pictures, apps can be transferred very fast with this app without USB, without spending data. The app supports Android, iOS (iPhone/iPad), Windows Phone, Windows and Mac.
Special features of this app: No network constraints, fast file sharing, cross platform transfers (phones and laptops and tablets, whether Android, iOS or Windows OS). Apart from this, SHAREit is very easy to use and you can connect it to your PC as well. Facility to transfer SMS, MMS, Music, Videos, Apps from old phone to new phone with just one click. The app can also be used for group sharing. The app has been downloaded over 500 million times on Android and has a rating of 4.5.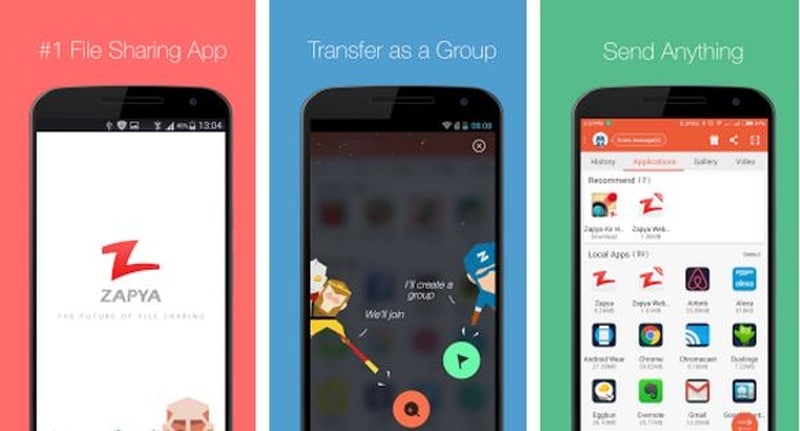 zapya
More than 450 million people around the world are using the Zapya app for cross-platform sharing and sharing. zapya Instant sharing can be done on Android, iPhone, iPad, Windows, Tizen, PC and Mac systems. Photos, videos, or apps can be shared with this app.
Special features of this app: Fast file sharing without internet or Wi-Fi. File sharing of any size and format. Group and QR code sharing. Many types of games can also be enjoyed on Zapya without spending data. This app has got a rating of 4.5 on Android. Zapya is easy to use and supports multiple languages ​​like English, Thai, Indonesian.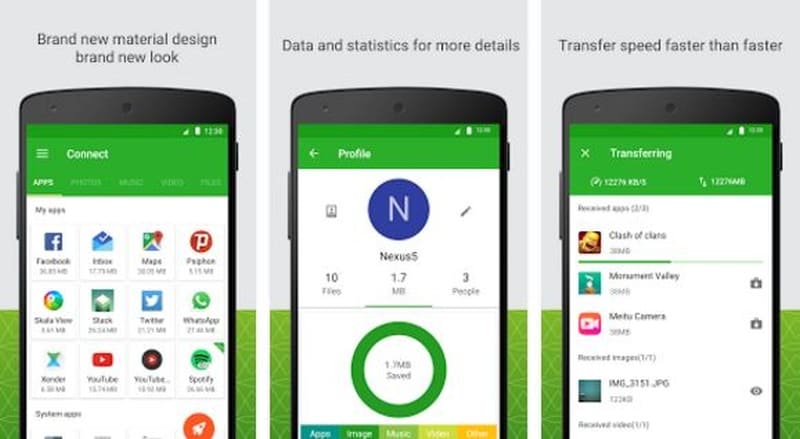 gender
If you want to avoid the use of internet ie mobile data during file sharing. gender The app is a great option. Gender best meets your needs for file sharing. With this app, like shareit, any file can be shared without internet at any time. The app supports Android, iOS, Windows, PC/Mac cross-platform transfers. The app does not require any USB connection or PC software. This app also works like a file manager by backing up your data.
Special features of this appThe app claims that more than 100 million files are shared every day. It's a great platform to share all kinds of music, videos, apps and photos. It allows sharing by connecting up to four devices. To transfer data from your smartphone, download Gender on both smartphones and keep them side by side. As soon as you launch your Gender app, your smartphone will recognize that the accompanying phone has Gender installed. After that add that friend's phone to your group and select the file and tap on the send button. Work finished! It has got a rating of 4.3 on Android. The app supports many languages ​​including English, Bengali, Chinese, Hindi, French, Thai.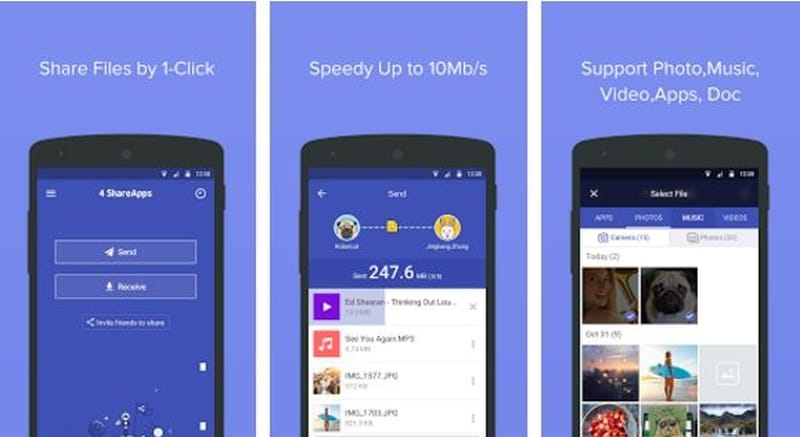 4 Share Apps
4 Share Apps In this also you get the option of file sharing. But this app supports only Android devices. With the help of this app, all types of files can be shared at any time. You will not need any USB, internet connection and data usage to share files with this app.
Special features of this app: Share any size of photos, videos, music and files other than apps. One click backup of installed apps to SD card. Finding out the most shared apps. It has got a rating of 4.3 on Android. This app supports a total of 31 languages ​​like English, Spanish, Thai, Italian.
superbeam
Superbeam 4.0 is a handy app for large file sharing. Two devices can be paired via QR code on the Superbeam app (this app includes a QR code scanner), NFC or manual sharing key (PRO). In case of no Wi-Fi direct superbeam Goes into hotspot mode. Apart from this, this app can also use Wi-Fi network connection in case Wi-Fi Direct is not working.
Special features of this app: Fast file transfer with Wi-Fi Direct. Pairing devices that do not have Superbeam downloadable via the web interface. Sharing any type of one or multiple files (photos, zip files, videos, apks, contacts). Keeping history of all transfers. Light, dark and amoled color themes. Sabha files received through this app are stored by default in '/sdcard/SuperBeam', which can be changed by going to Settings. This app has got a rating of 4.3 on Android.